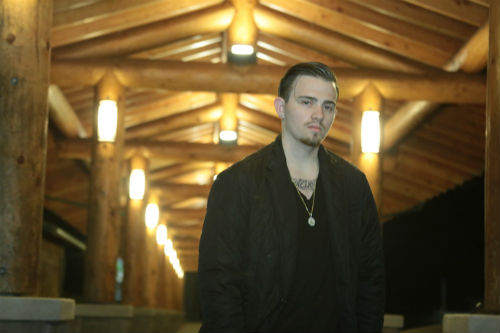 CRESCENT CITY, CA – When Joseph Finigan decided it was time to become serious about pursuing a career in hip-hop, he knew he had to come up with a name that not only represented who he was as an artist, but which would also be memorable to anyone who heard it. He wanted to come up with a name that was as far away from ordinary as possible, especially since his real name is Joe.   
"It was difficult, because how do you represent yourself with a name?" he said. "At first I thought I wanted something simple, and I came up with DJ OE. But everyone started asking me what OE stood for, and I thought it was a clever take on my real name. So one day I was doing some drawings in an art class about space and the word Omni came into my mind. Omni means 'All,' and that's partially what my music is about – that I'm Omni Everything. I'm also different, and I want my music to inspire other people to know that they're different and unique and they should embrace that. So in that sense I'm an alien. Eventually that's how I came to choose Omni Alien. It's not so much about space and futuristic stuff; it's more about representing things that are more unique and diverse."  
Once his name was locked in, OA got to work on the music. He has dedicated himself to mastering his art since high school, and in the years since he has experienced some early success. Not only has he been able to found his own label and clothing line under the name Omni Alien LLC, but he's also been able to work with a handful other artists such as Andre Nickatina, Berner, Marc E. Bassy, E-40 and the late Bay Area legend The Jacka.  On March 22 – his birthday – he released a 10-song album called "Omnicon." Prior to that release, almost all the music he had created had been in collaboration with other artists. And every single had a feature from another artist. But "Omnicon" showcases OA's ability as a solo artist without relying on the pedigree other artists to help boost its quality.
 
"I wanted to know what I could do on the strength my own songs," he said. "With this project I pulled songs from the archives and created some new songs. It's probably the best piece work I've put together so far. In the two weeks since it's been out I've gotten a good response. The vibe is very unique. I don't stick with one thing – you can't put me in a box. In fact, I take pride in being a multi-faceted artist. I want to continue to be the kind artist who grows and doesn't get stuck in the same place. The style rapping is mainly the same from song-to-song, but the subject matter in each song is different and I mix up the cadences. I also try to do the best I can to create music that isn't too abrasive. The rap community has a large reputation for being heavily negative – very street and rigid with a lot cussing. I've started to stray away from that and keep it to where my albums are non-explicit. I want it to be music that anyone any age can buy and enjoy."  
To listen to Omni Alien's music or to follow him on social media, please visit the following:  
Facebook: Onmi Allen 
Twitter: @Omnialien
Instagram:@omnialien
SoundCloud:@omnialien
Snapchat: @omni707