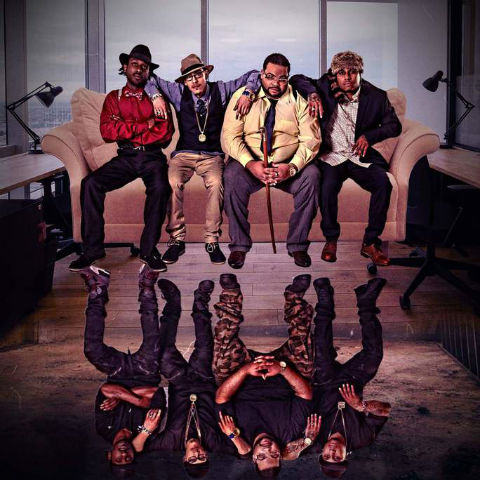 HARTFORD, CT – It was 2004, and rap pioneers G-Unit were at the forefront the hip-hop community, when two cousins, DA KID VEGA and Tony, mused about their own passion for music. They thought about what it would look like for them to craft their own sound. Could they turn their love for music into a career? What was a mere daydream quickly became their life's work. Over more than a decade, the group came together to form "Top Phive," as DA KID VEGA recruited Nino Luck, Jigz Da Grim, and C-LZ Luvellz, the missing puzzle pieces to the up and coming hip-hop group. Sadly, one the original "Phive," Tony passed away in 2013. His death, however, is not in vain and continues to be a special motivator for the group. "At a certain point, we'd all gone our separate ways after high school. But, when Tony passed away, it encouraged us to get back together and take it seriously," explains Luck their departed friend and partner.
The group pulls influence from a variety artists; from Ludacris to Cassidy, each member is pulled by a distinct sound. It's this dynamic and vast taste in music that lends itself to the group's versatility, and allows them to create a variety sounds and dabble in many genres, from R&B to rap. Each member brings his own unique taste to the group, resulting in a sort "hip-hop gumbo." One common thread between each the Phive, however, is a respect for lyricism. "I love lyrics. For a song to make me say 'What did he just say?' and really think about it," C-LZ Luvellz says his knack for lyrics. "What's music without a story?" Of course, the point music is to tell a story, and no one does that better than Top Phive. Reminiscent a time when rap and hip-hop still really meant something – a notion that is lacking on the Top 40 list these days – the group creates important music, not just catchy music.
Their newest single, "What's Her Name," is an example how catchy and relatable the group's music is. Without giving away too much, the song chronicles a one night stand in a quick and clever way. The song's music video comes out on April 21st, and will make fans eager to hear the rest the group's upcoming album, which is set to release this June.
One thing is certain: "Real rap still exists," insist the group's four members. And if you give them one listen, they'll prove it to you.
Fans can listen to "What's Her Name" on SoundCloud:
Keep up with Top Phive on Social Media: TWITTER: @TopPhiveYF
FACEBOOK TopPhiveYF
YOUTUBE: TopPhiveYF
INSTAGRAM: @TopPhiveYF