Darby O'Trill & Devereaux Open "The Tomb" in Time for Hallowicked (Album Review)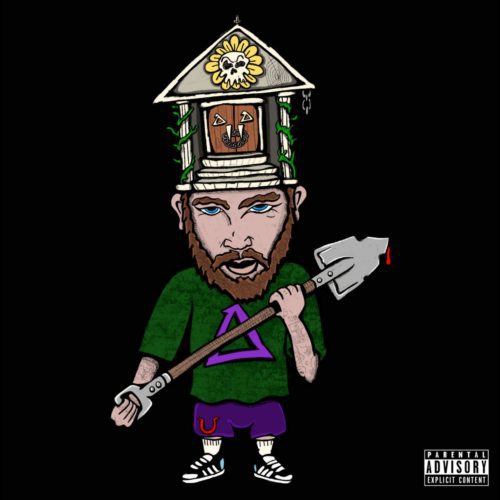 Darby O'Trill is a 30 year old MC from Key Largo, Florida who first emerging in the fall of 2018 off his full-length debut Blood, Guts & a Whole Lotta Love. He would go on to follow it with Fester almost a year later & has extensively been working with Chapter 17/Psychopathic Records in-house producer Devereaux by bringing him into the cut to fully produce his 3rd album Piecemeal to critical acclaim during the COVID-19 pandemic. Darby's last full-length Gully came out this past spring under Lyrikal Snuff Productionz & after dropping his 5th EP Amputate last month, he's ringing in Hallowicked by giving the underground his a 5th album.
After the "Path to the Tomb" intro, the first song "Vampiro Wrestled with ICP & the Misfits & I Think That's Hella Fresh" is an ominous trap opener talking about acting like Sabu prior to Shaggytheairhead & .strife both tagging along for "They Sell Holy Water on Late Night TV" to criticize religion over some bass & hi-hats. "Harvesting Blood for Absolutely No Reason But to Do It" returns to an eerier trap sound with the title saying at all as far as subject matter goes just before Killator comes into the picture for the cloudy "I Think I'm Stuck in Hell, I May Need to Call a Friend" talking about being unable to tell if they're in purgatory or not.
Continuing from there with "Orange Bloodstains on the Floor of My Kitchen", we have Darby spitting the wicked shit on top of an uncanny trap beat just before "Don't You Dare Look in That There Basement, I Told You Not to Do It" with Damien Quinn finds the 2 demonically cautioning not to even think about looking in the titular basement. The song "StillHoein2kForever" weaves some prominent hi-hats in to drop some wicked sex tape while Shaggytheairhead returns for the penultimate track "Idiots at a Comic Convention" to rep Juggalos over a sitar.
"I Puked All Over My Brand Nu Trueys (WTF!)" is the official closer to the album from it's shimmering instrumental to the sung delivery admitting that he had to lose his mind to find out who he really was & "The Barista at the Coffee Junt Never Gets My Name Right" truly ends the album as a bonus cut, which I'm happy with considering that I initially liked it when it was initially released as a stand alone single at the Gathering of Dreams this past summer.
Gully to me has quickly become a modern day wicked shit classic in my opinion & Amputate was a fresh prelude of what was to come today, but The Tomb absolutely has me excited for what's to come from the Swamp Society down the road. Devereaux's production finds him expanding his sound much like a lot of the stuff he's done in the last year & Darby lethally dropping the wicked shit with some wig-flipping flows.
Score: 8/10