A.M. Early Morning & Nightwalker team up with Eto for "Late Night Early Morning 3"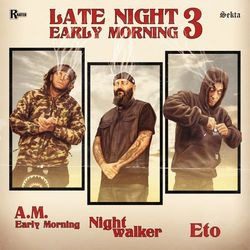 The Chicago-based duo of A.M. Early Morning  producer Nightwalker delivers a jazzy, thoughtful new single with "Late Night Early Morning 3," which features a noteworthy guest appearance from Rochester, N.Y. emcee Eto. The rappers makes use of a jazzy/somber production to deliver a plethora of witty lines and vivid lyrics that focus on getting what is yours. The record is all about having that undeniable winner's mentality all through.
"Late Night Early Mornings 3" is available now through your preferred digital retailer or streaming platform, and is taken from the duo's collab EP, L.N.E.M. III, which is available now for pre-order and due out Sept 16 through their Late Night Music imprint.
Keep up with A.M. Early Morning  |  Twitter : Instagram