Fashawn and Sir Veterano Exclusive Interview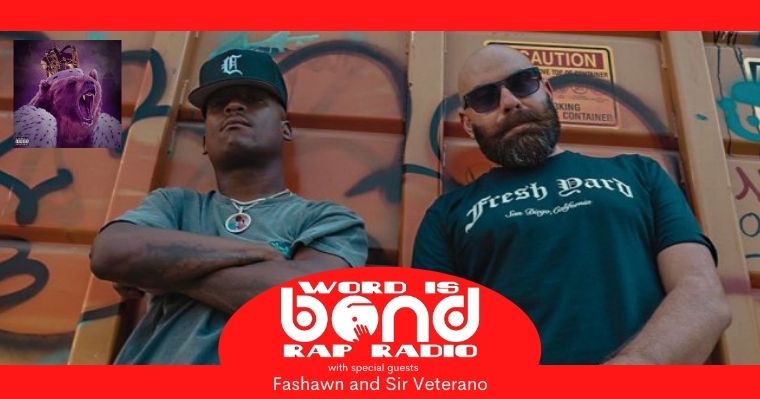 Fashawn and Sir Veterano are the special guests for this week's edition of Word is Bond Rap Radio.
Fashawn was in the Freshman class of 2010 on the cover of XXL Magazine. He has been putting in a lot of work since then and even before that. We talk about all that and more, plus play lots of his great music!
Enjoy the show!
Chase March & Strange Breed – Word is Bond Theme
Dilated People ft Fashawn, Rapsody, Domo Genesis, Vinnie Paz, Action Bronson – Hallelujah
Fashawn ft Nas & Aloe Blacc – Something to Believe In
Fashawn & The Alchemist – Amen
Rakaa ft Evidence, Fashawn, & Defari – Aces High
Murs & Fashawn – Stone Cold
Markis Precise ft Fashawn – Skateboard
Fashawn ft Blu – Samsonite Man
Evidence ft Fashawn  – Think'n Bout Thinking
Sir Veterano & Fashawn – All Hail the King
Sir Veterano & Fashawn ft Aloe Blacc – Castle
Sir Veterano & Fashawn – To Be a King
Sir Veterano & Fashawn – This Town
Young Dolph ft Juicy J & Project Pat – By Mistake (Remix)
Fashawn – Places to Go
Fashawn ft Snoop Dogg – Pardon My G
Listen to Word is Bond Rap Radio
Thursdays 11:00 p.m. – 01:00 a.m. EST on Radio Western
Streaming online via 94.9 fm Radio Western
With the Tune In App worldwide
Anytime on Mixcloud
Download This Episode
Downloads are available to Patreon supporters. For as little as $1 a month, you get the the weekly downloads and streaming links days before anyone else. And if you support at a higher tier, you get more benefits, including shout-outs, personalized mixes, and more.
Interact with us online
Facebook – The Word is Bond, Word is Bond Rap Radio, Chase March
Twitter – The Word is Bond, Chase March
Instagram – The Word is Bond, Chase March
Follow Radio Western on Facebook, Twitter, and Instagram
If you liked this episode, check out last week's episode.