Top submissions EP1 Oct 2022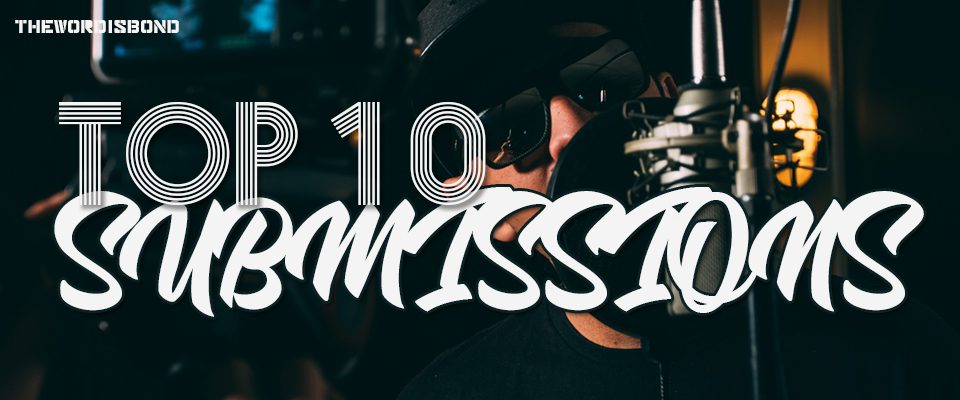 The weekly Top Submissions aims to showcase a selected crop of acts that cross our paths. From the best tracks/videos from far and wide, we gather the upper echelon of artists you can find and give them a platform to be further recognized for their works. So, sit back and tune in, and don't forget to show them some love by following them on all social media platforms.
If you like this article check out our previous entries HERE
Shea Michael x illmac – "The Intro"
"The Intro"  by Shea Michael and illma is the perfect way to kick off the list a the two go back and firth with vivid and off-kilter lyricism over a punchy and upbeat soundscape.
Christopher St. Mitchell – "M.A.R.S
."
Emcee Christopher St. Mitchell goes into dark regions in his new single "M.A.R.S.", Over a rock guitar-infused rousing backdrop, he delivers graphic lyrics about human sacrifices, severed limbs and asphyxiated lungs and overall the vengeful thoughts of a crazy individual.
G Smoove – "Been A Vibe"
G Smoove's latest release "Been A Vibe" sees him back in the field with his distinct flow and commanding vocals. He makes use of a lush and punchy backdrop to detail his go-getter mentality while sending warnings to the opposition.
Kiseme – "Nothing's Forever
"
Kiseme is an Independent Artist from San Diego, CA and a member of a collective called Can't Clone. His single  "Nothing's Forever". is an unapologetic look into his journey as a young black man trying to get his finances in order. From missing out on the fun and other less important activities he reminds us that he is not losing sleep.
BabyEleanor – "Lunar
"
Singer BabyEleanor makes her entry into our playlist with her single "Lunar". The heartfelt single dwells on being neck-deep in love and the revealing nature of spending time with someone. The production is eclectic and her distinct vocal performance sure is sublime and expressive.
F.ACE – "Where I'm From"
UK emcee F.ACE delivers a vivid account of his borough in the new single "Where I'm From". The track is bolstered by a brooding and cinematic soundscape that hits hard while his commanding vocals is underpinned by his graphic lyrics and storytelling prowess.
Tommy – "Nightmares"
Tommy originates from Ocean County New Jersey and was raised in Las Vegas. His style of music taps into his personal experiences and much more. His new single "Nightmares" is a reflective love-inspired record that sees him musing on the dynamics of a fledgling relationship.
Frisco Hardbody Sco – "Stay Focused"
Peoria, Illinois-raised rapper Frisco Hardbody Sco gives us a sneak view into his life in his new single "Stay Focused". The production is sombre and punchy as the guitar riffs and moody textures take precedence while Frisco's heartfelt lyrics and commanding flow seal the mission. He talks about his experience with fake friends who betrayed his trust and the bad times that seem to linger on but as a man with perseverance, he was able to overcome it all.
Frisco is also the founder and CEO of Hardbody Empire.
Manoli Fuego – "Nomadic Travels"
East Flatbush Brooklyn-based Haitian American Manoli Fuego makes his entry on our site with "Nomadic Travels". A soulful and retrospective tune that explores the journey of a young black man in this modern world where nothing is certain. Bolstered by a smooth jazz-infused soundscape Manoli shares a couple of his experiences with life's fleeting moments. He is the founder of Qurriculum Global Media headquartered in Atlanta, Georgia.
Hei$enberg – "Gr8"
Hei$enberg makes his entry on our list with "Gr8", an aspirational anthem that aims to spark our inner passion to seize the day and make every move count.
Oliver Munch – "Meat Grinder"
Oliver Munch pays homage to the late DOOM with his remix of "Meat Grinder". The production is sombre and nostalgic and quite blissful while DOOM's distinct vocals still possess its integrity.
Ducce – "Dead For A While"
Ducce pours his heart on wax and holds nothing back in his new release "Dead For A While". Over a rousing and moody trap backdrop, he shares his candid thoughts which weave his experiences as a young man growing up in not so kind environment.
!KVCA! – "Manifest"
!KVCA! draws n the power of the word and the tongue in his new single "Manifest". The song is a sombre motivational record underpinned by heartfelt and insightful lyrics and his distinct commanding flow. It's quite expressive and aspirational as well.
Skee – "Never Complacent"
Skee's "Never Complacent" is an aspirational and motivational tune that details his go-getter mentality. Over a guitar-driven backdrop, he shows his resilience and dogged nature when it comes to chasing goals and dreams.
Overall, the track implores us to work hard and keep our inner passion burning and never take anything for granted.
iGoByLC x J. Penny – "Range"
The duo of iGoByLC and J. Penny team up for "Range", a fiery track that showcases their stylish flows and no holds barred lyricism.
Royale – "Deja Vu"
Emerging singer/songwriter Royale pours his heart on wax in the new single "Deja Vu". Bolstered by sublime and reflective textures and soft drums, he revels in blossoming love and pours adulation on the lady who caught his eye.
Woo$kee – "Good Mood"
Woo$kee runs through the many problems in his life in the new single "Good Mood". From workload, shaky relationships and other issues, he gives listeners a nuanced view of things as he takes steps to be a better person.
"Good Mood" is taken from his new album Papi.
Kevin Jazz – "DOWN"
Swedish rapper/songwriter Kevin Jazz delivers his new single "DOWN" which sees him reflecting on his grind as he proceeds to do all he can to give his family a better life.
Trevor Spitta – "Buss It Up"
Trevor Spitta's new single "Buss It Up" showcases his versatility as he blends smooth melodic runs with intense lyricism over a bouncy and atmospheric backdrop.
Angel J x Quezzy – "Call My Phone"
"Call My Phone" is an R&B/hiphop infused record from Connecticut native Angel J and Quezzy. The production is smooth and bouncy while the verses are vivid and the chorus is alluring as well.
JVMMY – "Player"
Australian singer/songwriter JVMMY details the life of a "Player" in his new single. The flow is quite slurry and stylish while the guitar-laden soundscape is alluring as well.
Iyl-'Ohiyn – "African People"
UK emcee Iyl-'Ohiyn shares this insightful tune titled "African People" which sees him detailing the history of black folks and the need for unity between all members of the black community despite their nuanced backgrounds.
Overall it encourages black people from all walks of life to 'wake up and rise up highlighting some of the black people's historical achievements in the world.
Tommy Stoner – "DUMB" (feat. Makk & Ferregamo Swave)
Tommy Stoner enlists the help of Makk and Ferregamo Swave for this new hard-hitting single titled "DUMB". The production is cinematic and dark and the rappers hold nothing back as they deliver verbal blows in copious amounts while warning the ops not to pull no dumb move around them.
G-SALIH – "Get To It"
G-SALIH comes through with the new single "Get To It" which sees him in his element over a brooding but bass-heavy backdrop. The track is underpinned by his bravado-driven flow and social commentary on several issues that affect people and listeners can easily relate to the theme of the song.
Konstant – "Mai Tai"
Canadian singer/songwriter Konstant delivers a smooth upbeat jam titled "Mai Tai" which sees her taking steps to heal from hurt while basking in the summer sun far away from the madness. The beat sure is bouncy and the chorus is catchy too, Konstant's distinct accented melodic runs are alluring for sure.
Graphinity – "Too Long"
Graphinity makes his entry on our site with "Too Long", a heartfelt and reflective tune that digs deep into the lasting effects of unrequited love. The music production is sombre, airy and nostalgic and the lyrics are heartfelt and candid.
Yorke – "Mirrors"
UK emcee Yorke makes an entry on this week's list with "Mirrors". The track is eclectic and made up of airy, atmospheric textures layered over soft but punchy drums. Yorke delivers with his characteristic laidback flow and off-kilter style as he digs deep into the mirror concept. "Mirrors" is the first of 3 singles in the lead-up to his second tape coming this year.
JusKolMeAl – "Relax"
Rapper/producer JusKolMeAl showcases duality in his new single titled "Relax". The self-produced track is haunting and dark and sees the rapper dropping verbal bombs and then some.
nord1kone – "High Velocity"
"High Velocity" is the newest release from rapper nord1kone who takes it back to the golden era with punchy boom-bap drum breaks and moody bass-heavy textures. The rapper holds nothing back with his distinct and commanding flow and graphic lyrical schemes to match.
Inkswel x Colonel Red – "Cruel Mistake"
Australian producer Inkswel and UK soul vocalist Colonel Red have teamed up to drop the new single "Cruel Mistake". The record is bolstered by Inkswel's off-kilter and brooding production underpinned by Colonel Red's distinct melodic runs and vivid lyricism that dwell on making amends for one's past errors.
Fdluxx x Sane – "Throne"
Producer Fdluxx links with rapper Sane to deliver this new collaboration titled "Throne". The result is an insightful tune that sees Sane exploring his journey thus far and the many experiences along the way. He reminds us that he is trying to find his way and has no time to waste on the naysayers.
Matt Nye – "Yesterday's"
Matt Nye closes out this week's playlist with "Yesterday's", a heartfelt and sombre tune that sees him musing on the ups and downs of life. He makes use of a jazzy soundscape made up of airy horns and solemn strings as his canvas as he paints a warm and relatable picture of life and its idiosyncrasies.