Top submissions EP2 Oct 2022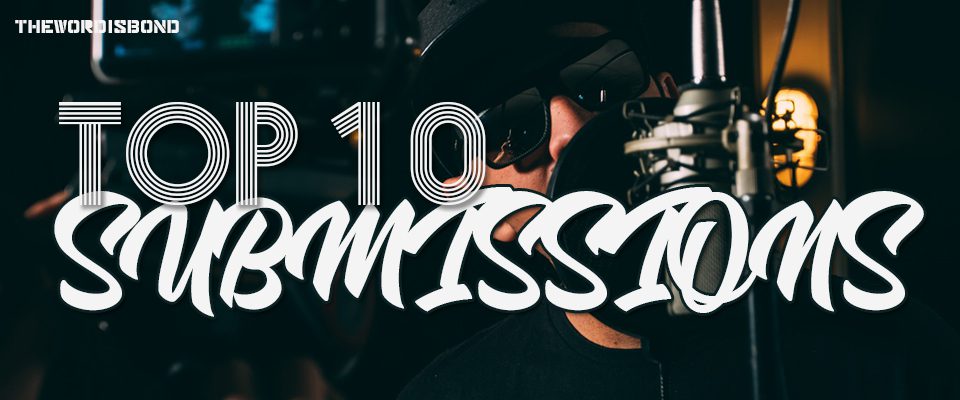 The weekly Top Submissions aims to showcase a selected crop of acts that cross our paths. From the best tracks/videos from far and wide, we gather the upper echelon of artists you can find and give them a platform to be further recognized for their works. So, sit back and tune in, and don't forget to show them some love by following them on all social media platforms
If you like this article check out our previous entries HERE
M7 – "Dis Dat"
Australian emcee M7 leads the charge with this gritty record titled "Dis Dat" which showcases his unique flow and knack for penning no holds barred lyrics. The bravado-tipped track is a pure display of his prowess with the pen.
André Jahnoi – "Another Black Boy (Run)
"
André Jahnoi and Jayder team up for this insightful piece titled "Another Black Boy (Run)". The duo uses the classic Pharcyde single "Running" to reflect on modern-day real life issues like police brutality, racism and disenfranchisement in the urban areas.
Highrise – "Send Me To Heaven"
Emerging emcee Highrise's new single "Send Me To Heaven" dwells on the delicate topic of substance abuse. Over a sombre and cinematic soundscape, he details his experience with a close friend who is addicted to drugs and how he has to cope with knowing he is killing himself and how it affects everyone around him.
Decosta Boyce – "To Get By"
Instrumentalist Decosta Boyce teams up with vocalist Sharleen Hector (Basement Jaxx) in this new collaboration titled "To Get By". The record is a quintessential love ballad that sees the singer fully expressing his burning desire for a love interest.
Over a laidback soulful canvas, the duo delivers a sublime and soul-stirring performance ripe with layered melodic runs and soothing harmonies.
SHOWTIME RAMON – "Heart of Darkness"
SHOWTIME RAMON returns with "Heart of Darkness", a gritty off-kilter tune that sees the rapper divulging some issues he wants to get off his chest. Over a sombre vocal sample-driven backdrop provided by Olehead, SHOWTIME doesn't waste time and goes off with much gusto with his carefree flow.
Belaganas – "The Plug"
Following the release of their latest single "Cresco", the hiphop group Belaganas returns with "The Plug". The hard-hitting single once again showcases their unique fusion of hip-hop, pop, and punk style. The chorus is memorable and the verses are vivid and graphic while the experimenatl production is gripping from start to finish.
Archy Moor – "Beautiful"
Archy Moor shares his single "Beautiful" which sees him teaming with UK producer Earl Saga and LA-based producer MIKEWAVVS. The production is sombre and brooding with its soft piano riffs and sparse drums. Archy, on the other hand, dives into his life and reflects on the highs and lows and how those experiences made him who he is today.
Mike x Lincoln x Tobias Defoe – "La La La"
Born in South Ghana and raised in The Bronx, 22-year-old rapper Mike (formerly MJangles) began his career in 2018 on Harvard University's campus with the release of his debut EP Product of Environment. Presently he put out his album,Invictus and "La La La" is the anthemic single that plays a central role in the project. Over a rousing gospel-soul-tinged production, he details how he sets about pursuing his goal with passion and jumping over the hurdles that might come his way.
Natalie Good – "Lovebomb Letters"
UK singer/songwriter Natalie Good's "Lovebomb Letters" is a solemn sad song that was inspired by her recent breakup. Over a solemn guitar-driven backdrop, she details the piles of lies she discovered her ex told her and all the underhanded actions he did to gaslight her. The worst part was even breaking the law using her identity, which broke the camel's back. On here, Natalie takes charge and lets him know there is no coming back from this.
The song will be released on her e.p, Close to closure, will be released before the end of this year…
Uncle Fester x Ambeez – "Solidarity"
Veteran Halifax Hip-Hop pioneer DJ Uncle Fester and Ambeez link with Aquakultre for this soulful and insightful piece titled "Solidarity". The track samples a classic soul record and flips it into a sombre reflective piece ripe with punchy drums and lyrics that pay tribute to the true essence of hiphop and rap music in the name of solidarity.
Lujza – "Melody"
Singer/songwriter Lujza makes her entry on our list with "Melody", a heartfelt love ballad that dwells on the essence of true love and how it warms her heart. The song is taken from the love story album Caught Up.
The Black Market – "Nostalgia del Futuro" (Feat. Mistaman)
Italian rapper Mistaman and The Black Market link up for this jazz-infused and vibrant tune titled "Nostalgia del Futuro". The production is groovy and lively and Mistaman brings pure lyrical power to the forefront and keeps listeners engaged from top to bottom.
This is a taken from the first The Black Market EP Details #01.
Moon – "Dangerous"
Emerging singer/songwriter Moon shows us how she is "Dangerous". The production is sparse and moody while her sultry vocals take centre stage with their sublime alluring melodic runs.
Matt Nye – "Rest of My Life"
Matt Nye returns with a new release "Rest of My Life" which sees him digging deep into the modern life we live in. Over a moody and soulful soundscape, he delivers an animated and emotionally driven performance ripe with insightful and bravado bars. He is joined by Mark Vasquez who brings a soulful touch to the chorus section.
Ev Thompson – "Freedom27 "(feat. Speak)
Ev Thompson is in his element as he flexes his verbal biceps in the new single "Freedom27 ". Ev also reflects on his past and his growth as a man and an artist. He is also joined by Speak who adds a smooth melodic chorus to spice things up.
Snotty Nose Rez Kids – "TRENDSETTER"
Juno Award and Polaris Prize-nominated Snotty Nose Rez Kids (the duo of Yung Trybez and Young D) are thrilled to share their new single, released today – "TRENDSETTER" (ft. DillanPonders).
The upbeat track sees the duo acknowledging the ways that they've set trends in music, style and fashion, often going their own direction and staying true to whom they are, avoiding falling into other trends, and laughing off the haters and naysayers who have adopted the same trends that the duo set. The song, a celebration of Indigenous Pride, boasts production by Bay-area producer KYRIGO and is their second collaboration with DillanPonders
Bobby JaGGerJacK – "Love Letter"
"Love Letter" is the newest release from Bobby JaGGerJacK who revisits the first time he met his love. Over a subtle and ethereal soundscape, he runs through the timeline from the beginning and how he and his girl went through the ups and downs and although it didn't work out, he learned valuable lessons along the way.
Terrell Flowens – "Streams" (feat. Dom Venice) [Radio Edit
Terrell Flowens' new single "Streams" sees him reflecting on finding financial freedom in this unpredictable. world. Over a soulful and atmospheric soundscape, he gives listeners a nuanced view of his hustle and the daily grind. He is joined by Dom Venice who gives his own view on the issue.
geonovah – "Swayin'"
Emerging rapper geonovah shares "Swayin'" as the lead single for his new album called Sorry for the Mess. The music production here is dark and brooding and his carefree vocals take centerstage. It's experimental and somewhat haphazard in an engaging manner.
NvM – "Break It Down"
UK emcee NvM reveals some elements from his past in "Break It Down". Over a dark cinematic drill soundscape, he gives listeners a candid and unapologetic look into his life and his journey thus far.
Keanu Richal – "Waitin' On U"
Keanu Richal fully embodies the spirit of Toronto RnB in his new record "Waitin' On U". Over moody and dark soundscapes, he delivers a heartfelt track underpinned by lovelorn lyrics and airy vocals.
Chef B – "Chef FLo"
Emerging rapper Chef B makes his entry on our site with "Chef FLo", a mid-tempo bouncy tune ripe with lush guitars and his signature melodic runs with lyrics that dwell on his past with a summer vibe as well.
Jay Saint x Sevndeep – "All of This"
Brooklyn, New York, the Domincan-Haitian singer-songwriter Jay Saint teams up with Sevndeep for a solid club banger titled "All of This". Over a punchy afrofusion soundscape, he delivers a blend of patois and catchy rap lines with a hypnotic chorus to match.