Donnie Menace's 3rd Album Albeit LSP Debut "Chainsaws & Boomsticks" is His Greatest So Far (Album Review)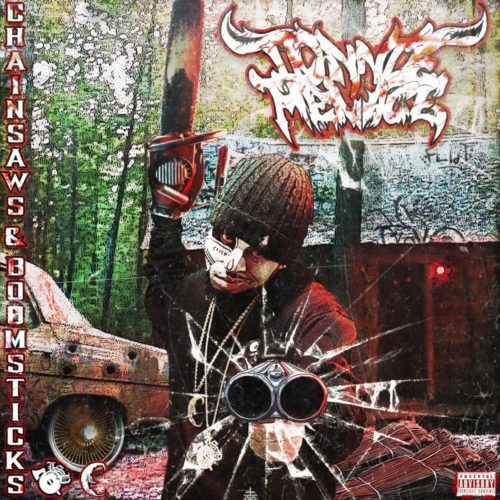 Donnie Menace is a 34 year old MC/producer from Stratford, Connecticut who emerged in 2008 off his debut mixtape The Threat & as the leader of the Nitebreed collective. Then came his full-length debut Wrath of a Menace a couple years later, which was followed up with his 2nd tape The Threat 2: Audio Sickness & his sophomore effort Bonded by Chaos. But considering that Russian-American horrorcore veteran Scum signed Donnie to Lyrikal Snuff Productionz & his mentor dropped the Blame Us collab effort with Smallz One last weekend, it was only right for him to deliver his highly anticipated LSP debut.
"Talk to the Boomstick" is an organ/boom bap infused opener mixing the wicked shit some some braggadocio whereas "Who Slashed Ya?" is a cool lil horrorcore rendition of the classic Biggie joint "Who Shot Ya?". "Around Here" returns to the boom bap warning that you should've never popped up near his parts, but then the "Theatrikill" remix with J Reno & Lex the Hex Master has the same verses & a new instrumental from Donnie himself that lives up to the O.G.
Meanwhile on "Violating", we have Donnie over some chilling production talking about people looking at him like he's Satan himself just before the Nitebreed comes together for the dusty "Brude" to talk about how you're gonna find out what really happens when titans clash. "Do You Hear Me Now?" ruggedly calls out his detractors, but then Scum tags along for the grotesque "I'm Choppin' 'Em Up" talking about dismembering bodies.
"Low Life" brings back the organs & dusty drums to look back on his success thus far while "Devil in Me" with Claas & Smallz One goes into trap territory confessing they don't know how much longer they can hold their stress inside them. "The Executioner" gets in his storytelling bag with a hair-raising beat while the penultimate track "I'm a Creep" with by the Nitebreed & Dent 1 is a rowdier cut confessing they can no longer deny being creeps. As for the "Luv 2 Kill" remix with Mr. Grey & M.M.M.F.D., it's a great closer & my favorite remix of the 2 throughout the album
LSP's been making a whole lotta noise in the underground this year & the Nitebreed leader's debut with the label proves that he fits right in with everyone else over there. The production is a step up from his last outing, Donnie himself sounds hungrier than he's ever been & the performances from the just about every feature that he takes with him for the ride are on par too.
Score: 8/10