Novatore's 10th Album Exhibits "Living in the End Times" (Album Review)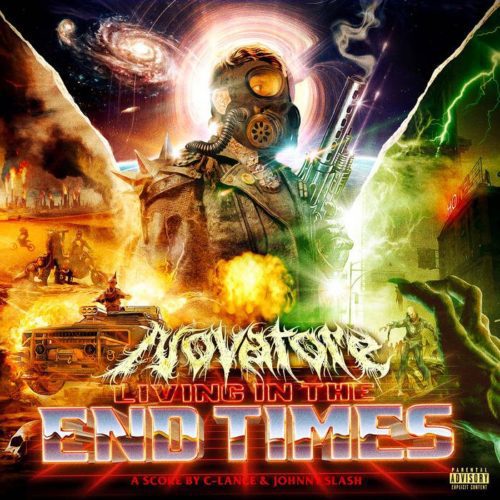 Novatore is a 34 year old MC from Chicago, Illinois who originally came up as a member of the Infamous Crew. He's also built up an impressive solo career since 2015 by dropping 4 EPs & 9 albums all in that amount of time, with the previous offering Master of Morbid Creations this past spring. But for his 10th full-length over here, Novatore's enlisting both Johnny Slash & longtime collaborator C-Lance behind the boards for such a milestone in his ever-growing discography.
"Outlaws of Outer Space" opens up the album with a synth-boom bap hybrid talking about being ready for total war prior to King Magnetic tagging along for "Road Warriors" welcoming you to your only future & the crooning sample throughout is flipped really well. "Audio Assault" ruggedly calls for all his enemies to fall to their knees leading into A.M. Early Morning & Nightwalker coming into the picture for "The Time Has Come" to flex their prowesses & my favorite part about the beat has to be the guitar hands down.
Continuing from there with "Terry Funk Syndrome", we have Novatore over more synth/boom bap production referring himself to be amongst the dopest out whereas "End Times" is just an instrumental interlude. "The Game is Over" with Benny Holiday & iLL ZakieL finds the trio ruggedly letting everyone know they didn't come to fuck around while the song "Mass Panic" has a more dustier quality to it talking about how we've been a nation of zombies. The penultimate track "Wasteland" with OutcastGawd Lord El sees the pair going back & forth with one another over a pitched-loop until "Class Act" is a piano-laced closer talking about never being afraid to fail.
Although I'd personally say Master of Morbid Creations happens to be the better of the 2 albums that Novatore has dropped throughout 2022, you should be more than satisfied with what we got on Living in the End Times. The features are a little hit or miss, but the production & concept are both as strong enough as the predecessor's to make me be able to want to listen to it again.
Score: 7/10