Teck-Zilla Assembles "The Best Emcees" with Recognize Ali,Da Flyy Hooligan, Elzhi,RX The rapper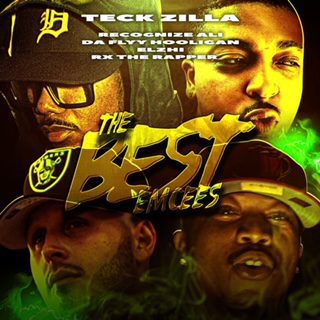 Teck-Zilla is back in the house and this time with an ensemble cast to bring the heat. Every rapper definitely believe they are the best when it comes to emceeing but what Teck has done is bring together a quartet that have been battle tested and also have proven track record in the art of lyricism.
The DJ/Producer brings Ghanaian/American lyricist Recognize Ali, UK's Da Flyy Hooligan, Detroit's super lyricist Elzhi (of SlumVillage fame) and emerging rapper/actor RX The Rapper to school microphone fiends on the calibre of The Best Emcees as the title of the song suggests. Gruff vocals, animated hooks, bravado raps and quotables all abound in this track as the emcees fire off their heavy weaponries with no holds barred. This track is a follow up to "Los Tres Grandes" as delivered by Teck-Zilla.
Check out for more Teck-Zilla on Spotify, Audiomack, Twitter, Instagram, Facebook, Youtube, Beatstars
Hit up Recognize Ali on Instagram & Twitter
Follow Da Flyy Hooligan on Twitter & Instagram
Get at Elzhi on Twitter & Instagram
You can find RX The Rapper on Twitter & Instagram