Top submissions EP1 Nov 2022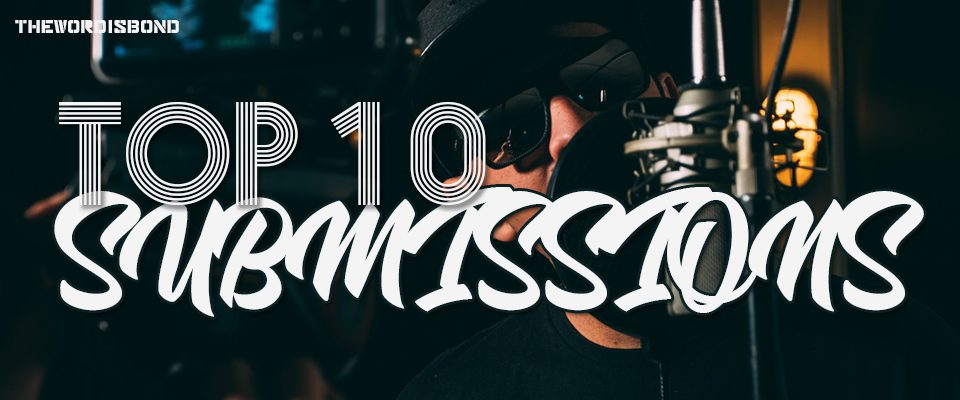 The weekly Top Submissions aims to showcase a selected crop of acts that cross our paths. From the best tracks/videos from far and wide, we gather the upper echelon of artists you can find and give them a platform to be further recognized for their works. So, sit back and tune in, and don't forget to show them some love by following them on all social media platforms
If you like this article check out our previous entries HERE
Chuuwee – "Lineage"
Sacramento rapper Chuuwee drops his new single "Lineage" alongside his new album entitled Dio. The track is a punchy energetic tune that showcases his fiery rap style and unfiltered bravado demeanor.
Manco Wilder – "A24"
Manco Wilder and Nacho Picasso caught our ears with "A24", a dark cinematic track ripe with vivid lyricism and an overall surreal aesthetic. The rappers make use of a stream-of-consciousness flow and the layered brooding backdrop blends perfectly with their flows.
Tony Lazo – "Cold Like Ice"
Emerging rapper Tony Lazo makes his entrance on our list with his new release titled "Cold Like Ice". Over Latin horns and punchy drums, Lazo delivers with much gusto and passion and a knack for vivid lyrical schemes.
Nate Donk! – "BACK2HOUSTON!"
Nate Donk! heads "BACK2HOUSTON!" in his newest release. The soulful banger captures his go-getter mentality and laidback demeanor.
Zim$inatra – "TMT" (feat. Zara W)
UK artists Zim$inatra and Zara W team up for "TMT", a mellow bouncy love ballad. Over crisp guitar plucks, Afrocentric drums, and warm pads, Zara W delivers a sultry and sublime performance ripe with sensual and soul-stirring elements.
OG MANNY – "Area"
Nigerian rappers OG MANNY and Ragermann make their entry on our list with "Area". The dark cinematic soundscape sure hits the mark and the use of aural effects and changing dynamics make the listening engaging as the rappers deliver a vivid story ripe with a lot of bravadoes to match.
DemarcoTheMan – "Coldkiss"
Hard-working indie rapper DemarcoTheMan delivers the proverbial "Coldkiss". The rapper pulls out the big guns over a somber and cold soundscape and delivers his characteristic off-kilter flow ripe with vivid tales of the streets and friendships being broken.
JDP – "No Saints"
Award-winning songwriter, rapper, singer, and poet  JDP shares his new single "No Saints" on our list. His knack for blending multiple genres is pronounced here as he employs a smooth melodic run for the chorus and switches it up on the rap verses with animated flows and graphic songwriting. Backed by the brooding soundscape provided by Australian DJ/Producer, Jaysounds, listeners get a glimpse into JDP's world where staying alive is a prerequisite. "No Saints" is taken from his upcoming EP that'll be dropping next year.
Tracy Lamont – "Sorry For The Wait"
Tracy Lamont delivers a gripping track in his new single "Sorry For The Wait" where he takes us deep into his daily struggles and aspirations for the future. As the title suggests, it sees Tracy reflecting on his journey so far while imploring us that more music is on the way and we just have to be patient.
Current Personae – "Farkhunda"
Current Personae makes his entrance on our list with "Farkhunda", a mellow and soulful tune that blends unfiltered piano progressions, orchestral elements with atmospheric melodic hums underpinned by soft percussions, and insightful raps from Austin Antoine.
Ay Wing – "Bloodstream"
Eclectic Swiss singer/songwriter Ay Wing shares her new single "Bloodstream" which once again showcases her versatility. Her knack for blending soul, pop, and jazz is brilliant and this tune adds a notch to her belt. Her sultry, silky vocals take charger over the atmospheric and sublime soundscape and the result takes the listener deep into her intimate and vulnerable world. This is the title track of her debut album.
Nord1kone & Lmt. Break – "Knock Knock"
Nord1kone and Lmt. Break come through with "Knock Knock" which harks back to the golden era of hiphop. The record is a smooth fusion of classic boom-bap and jazz and brings forth expert off-kilter rhyming from Nord1kone who flexes his lyrical biceps over Lmt. Break's dusty and punchy soundscape. As founding members of Outsiders Syndicate and long-time collaborators, Vocalist Nord1kone and Producer/DJ LMT Break have continued to evolve at the moment while keeping a torch lit for the Golden Age.
Morbid Clique
 x 

Erippa

 x 

Novelty Rapps – "Rize Up"

The trio of Morbid Clique , Erippa, and Novelty Rapps raise the energy levels on the list with their collaboration titled "Rize Up". Over the punchy drums and moody synths and pads, the trio proceeds with their vibrant flows and energetic demeanor as they implore listeners to rise up and go against the system.
ezioisdegen – "Slowdive"
UK emcee ezioisdegen makes his debut appearance on our site with "Slowdive". The single is as mellow as they come and made up of somber textures and jazzy elements that blend perfectly with his laidback and almost nonchalant flow.
Dattboiiaj – "Match My Fly"
Dattboiiaj's "Match My Fly" might be a slight departure from our sound but the rapper sure brings a lot of heart to the song. The track has a brooding and cinematic texture while the rapper delivers a vivid rhyme scheme that listeners can feel.
Suave A – "Finding Tomorrow"
Suave A's "Finding Tomorrow" is an insightful and candid look at racial differences and real-time issues that affect black folks trying to get what they truly deserve. Using himself as an example, he shows us how his go-getter mentality gets him through the craziness and red tape that aims to restrict melanated people.
Pat App – "Scars"
Pat App is an Indianapolis raised/based Hip-Hop artist who makes an entrance on our list with his new release titled "Scars". The mellow and reflective tune produced by @RealAgeBeats sees him exploring vulnerability and keeping one's guard up while weaving through this dog-eat-dog world. It is the first single off his upcoming debut album.
Drew Drake – "4Ever"
Drew Drake's new single "4Ever" is an upbeat and vibrant aspirational tune that explores taking chances and chasing one's dreams before time is up.
MN Cappo – "Courageous (Freestyle)"
Australian rapper MN Cappo gets down to the crux of the matter in this new single "Courageous (Freestyle)". The self-produced tune is energetic and punchy while his impassioned flow and vivid lyrical schemes cut through the mix with ease.
Suave A – "Believe It"
Suave A delivers a well-crafted aspirational tune "Believe It" on our list. Over a punchy and airy soundscape, he gives his own views on race relations and real-time issues affecting his kinfolk.
Jawny's Room – "Decaf"
Emerging rapper/producer Jawny's Room delivers this self-produced tune "Decaf" that explores burnout due to overworking and how it drains one's life as time goes on.
Z.a.c.h x Kennzo Suede – "Summer in Spanish"
"Summer in Spanish" is the intro song off Z.a.c.h and Kennzo Suede's collaborative EP BootCamp. The somber and reflective tune takes listeners back to Z.a.c.h Junior year of college where he falls for his best friend. Unfortunately, she is already in a relationship, but there are signs she might feel the same way. Inspired by Tyler the Creator's "Wilshire".  The two artists along with a Producer and a Creative Director spent one week in the studio and created the six-track EP, which was released the EP October 21st, 2022.
Jomo Kenyatta II – "Drapetomania"
Jomo Kenyatta II comes through with "Drapetomania", a punchy and off-kilter tune that showcases his stylish flow and bravado mindset. He recently started the rap duo RUNIT GANG with his brother Philo and "Drapetomania" is their first single.
Sareem Poems x Madi – "Keep Going"
Sareem Poems & Madi deliver "Keep Going," a song championing Men and Women leading in love. The somber and soulful tune dives into the idea of self-sacrifice with joy to ensure the family is straight. In summary, he implores the next generation to be their best without complaints.
RYN SCOTT – "Leaves Fall"
Michigan-based Rap/Hip-Hop artist RYN SCOTT closes the list out on a reflective note in his new release "Leaves Fall". The production is somewhat anthemic and the insightful lyrics peek into his struggles and how he found the inner strength to rise above it all.