Top submissions EP2 Nov 2022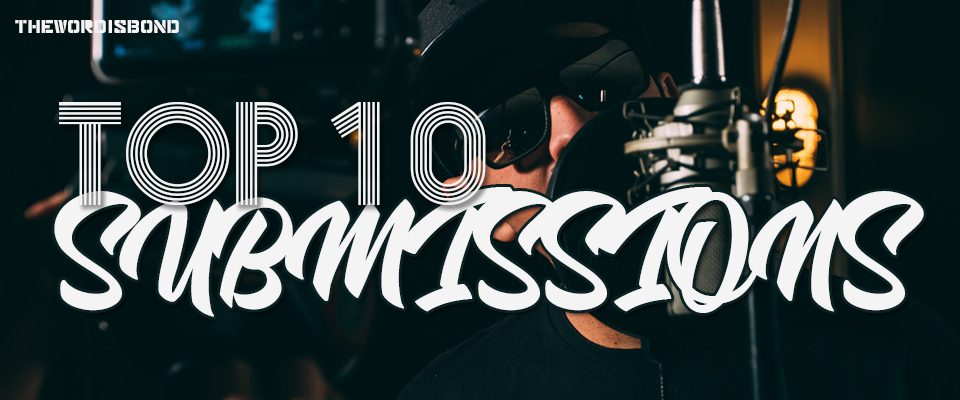 The weekly Top Submissions aims to showcase a selected crop of acts that cross our paths. From the best tracks/videos from far and wide, we gather the upper echelon of artists you can find and give them a platform to be further recognized for their works. So, sit back and tune in, and don't forget to show them some love by following them on all social media platforms
If you like this article check out our previous entries HERE
Osi – "Long Road"
Emerging rapper Osi takes us on the "Long Road" in his new single. The moody track sees him reflecting on his journey and the ups and downs of his life.
Trebor – "Golden Age"
Emerging rapper/songwriter Trebor takes us into the "Golden Age". The NJ-raised rapper makes use of a dark somber soundscape to share his tale of epic proportions and shows us his journey with a blend of bravado and a bit of insight.
Son of Sun – "Bygones"
Copenhagen-based Danish/Kenyan rapper Son of Sun gives some feel-good vibes in his new release titled "Bygones". Over a bouncy and bright soundscape, he gives listeners a poignant message of cutting off negative individuals and energy and leaving the past behind in order to grow. He is joined by singer Wendy Wonder who adds a smooth melodic addition to the uplifting record.
Noraa x deathbypeanuts – "Matter of Time"
Berlin-based singer/songwriter Noraa shares her new single "Matter of Time" which serves as the final single from her forthcoming TwentyTwo EP. The track is a collaboration with her longtime friend producer deathbypeanuts who crafts an 80s-inspired R&B ballad made up of dreamy textures, lush guitar riffs, and soft but head-nodding drum grooves. Noraa is surely in her element and delivers a soothing soul-stirring performance that exudes pure nostalgia and a bit of melancholy from reveling in the past.
PAZ el Pana – "TELEVISION"
PAZ el Pana flips the script with this conceptual track titled "TELEVISION" which talks about the different channels of perceptions that are caused by mind-altering molecules and substances.  The EV9THR33-produced track is moody and somewhat psychedelic in many ways and the rapper delivers his verses with a commanding and intentional energy that keeps listeners locked in from start to finish.
Yesha Moor – "SPACEMAN"
Yesha Moor caught our ears with "SPACEMAN", an off-kilter, lyric-dense record that showcases his unique style of songwriting. Blending conscious, stream-of-consciousness, and somewhat dark themes that listeners can relate to.
Jynx – "Avocado Toast and Coffee"
Singer/songwriter Jynx finds time to enjoy life with some "Avocado Toast and Coffee". The soulful guitar-laden track exudes summer vibes and it's as soothing as they come. Jynx implores us to savor each moment as you never know what the future may hold.
Mark Anthony – "Sunflower Searchin'"
"Sunflower Searchin'" is a laidback soulful ballad by Bay Area, the CA-based multi-talented singer/producer Mark Anthony. Over a smooth blend of lush keys, warm textures, and slick bass-laden grooves and flutes, he delivers an insightful piece that dives into true love and finding inner peace.
MacIzm – "Old Soul"
MacIzm gives a refreshing take on self-love in his new release "Old Soul". Over an ethereal and somber soundscape, he delivers a smooth melodic performance ripe with heartfelt and poignant lyrics that embody the maturity of loving oneself and believing in what you stand by
THT Cyrus – "Downhill"
THT Cyrus's single "Downhill" is an aspirational tune that aims to spark that inner fire inside of us. Over a bouncy and soulful backdrop, the emcee shows us that the journey is still ongoing but having determination and perseverance surely goes a long way.
Miranda Joan – "I Love You, Dwayne"
Canadian singer/songwriter  Miranda Joan shares the new single "I Love You, Dwayne" which is a tribute to Dwayne "The Rock" Johnson. Backed by a soulful texture and lush guitar riff, the singer delivers a solemn dedication to the man of her dreams, doling him with adulations and then some. The record shows listeners a different side of Miranda's personality with this playful and comedic tribute to the life and career of the wrestler-turned-actor.
Fattie B x Rivan- "Groove Gladiators "
"Groove Gladiators " is a brilliant funky tune from Fattie B who links up with Rivan and rapper G-Wiz. Over a bouncy drum groove, and jazzy horns, the artist delivers a blend of fiery raps and a catchy hook to complete the mission.
GREAT ADAMZ – "Link Up Remix"
UK/Nigerian artist GREAT ADAMZ shares "Link Up Remix" which sees him teaming up with CREA WOLF and ZITA. The result is a smooth blend of styles that give listeners soothing melodic runs with engaging heartfelt raps. The song was performed during the MOBO award Tour in Manchester and Cardiff and we gained a lot of attention.
CloudyxCarter – "Always Up"
CloudyxCarter gives us some inspiration and an aspirational vibe in their new single titled "Always Up". The production is rousing and somber and the lyrics are quite relatable as they dive into their come-up story and how they survived all the negativity around them.
Red November – "A Cold Day in Hell"
Newark, New Jersey-based rapper & producer Red Novèmber (Novè) makes his first entry on our list with his new single "A Cold Day in Hell". The somber tune is as reflective as they come and sees him digging deep into the ups and downs and the daily struggles he faces.
Bobby J From Rockaway x Hush – "People (Remix)" [feat. Daru Jones, Valid, The Truth Staten, Lil Dee, Joey Bags, MC Serch, Dogmatic & Kuniva]
Bobby J From Rockaway and Hush share "People (Remix)" which ramps the energy levels as they team up with Daru Jones, Valid, The Truth Staten, Lil Dee, Joey Bags, MC Serch, Dogmatic & Kuniva. Already you can feel the aura with these heavy hitters on deck. This is strictly for fans of heavy lyricism, versatile production, and heavy-hitting guest verses
Blocka Beats – "740 Freestyle"
Kenya artist Blocka Beats drops "740 Freestyle", a punchy track made up of basslines and snapping drum grooves. The rappers sure bring an interesting vibe with their stylish lyrical display.
John Dez – "Mansa Musa"
Emerging emcee John Dez shares a poignant message in his new single "Mansa Musa". The guitar-laden tune sees him reflecting on the present while pontificating on what the future holds for a young black man wading through the murky waters of the modern world. This song is a stand-alone single that serves as the precursor to John Dez's second EP Whiskey Thoughts 2 arriving at the end of December.
Showrocka x Star & Lyphe – "Supreme Cuban Linx"
Showrocka and Star & Lyphe team up for "Supreme Cuban Linx", a cinematic posse cut that pays homage to Ghostface Killah's Ironman and Raekwon's Purple Tape. Alongside longtime contributors Star & Lyphe, the trio channels their inner Wu-Tang with a barrage of verbal darts over a gripping Blaxploitation-infused backdrop. This is high-level lyricism and braggadocio at its finest.
Taizu – "a hundred"
Taizu gives us something to reflect on in his new single "a hundred". Over a chilled and somber backdrop, he delivers with a passionate drawl underpinned by poignant self-reflection and deep lines like "Trying to own life apparently we lease it " This is perfect poetry on wax.
Jordan Baumstark – "Smooth Operator"
Jordan Baumstark follows up his EP Charge It To The Game with a new single for the fall titled Smooth Operator". The self-produced record samples a classic bassline layered over a chilled head-nodding drum groove. Jordan also provides a very catchy chopped & screwed hook. It plays so well, off the 90's Memphis samples that are interpolated throughout. The vibe and timing of the record fit perfectly together.
MC Ortho – "Music and me"
Jamaican emcee MC Ortho gives us an interesting insight into his journey as an artist in his new single titled "Music and me". Over a soulful piano-laden backdrop, he delivers a candid performance ripe with engaging lyrics and a soothing melodic chorus to wrap things up.
Cash Sinatra – "Take Me High (Poly With Me)"
Cash Sinatra brings something refreshing in his new single "Take Me High (Poly With Me)". Over a bouncy and moody soundscape made up of thick 808 kicks and sublime melodic runs, he details the dynamics of modern-day poly relationships.
jevohn – "carry-on"
jevohn makes his entry on our site with "carry-on", a mellow heartfelt tune ripe with laidback melodic runs and candid songwriting that dives into emotional pain and the need to find a coping mechanism to pull through.
Eb&Flow – "Rap Grifters"
Cincinnati rapper Eb&Flow's new single "Rap Grifters" is causing a stir as he sends verbal darts toward "right-wing grifters appropriating Hip-Hop." The self-produced track is as moody and dark as they come and fits the dark theme and fiery raps that name-drops individuals from Tom MacDonald, Kanye "Ye" West, Royce Da 5'9" to Canadian rapper MadChild and more. Eb&Flow holds nothing back and tackles the rise of right-wing propaganda spewing celebrities infiltrating hip-hop culture and other sociopolitical issues.
PsychoYP – "Commitment Issues"
Nigerian rapper PsychoYP closes out the list with his single "Commitment Issues" taken from his new project YPSZN3. The track is a mid-tempo moody bouncy track that showcases his versatile flow and youthful exuberance as he details how he runs through these chicks.